Release Date
September 9th, 2022
Featured Title
SHAMAN KING
Card Types
167 types of cards (167 new cards)
(RRR: 20 / RR: 27 / R: 36 / C: 84)
+ Parallels: 198 types (SSR: 6 + SP: 23 + SKR: 169)
3 cards in every pack will definitely be R or above cards!!
In addition, each display will have 6 SKR cards!!
Note: this product includes cards localized from the Japanese edition SHAMAN KING Vol.1 and Vol.2 products
Others
1 pack contains 7 random cards
1 display contains 16 packs
Commercial
"SHAMAN KING" × "CARDFIGHT!! VANGUARD"!
Joining the "CARDFIGHT VANGUARD" series as a collaboration title,
"SHAMAN KING" enters the fray with a simultaneous release of its Trial Deck and Booster Pack!
Emerge victorious with "Over Soul" in the world of Vanguard!!
What is "SHAMAN KING"?
It is the story where medium "Yoh Asakura" enters "Shaman Fight", a battle tournament held every 500 years,
competing with other shamans in a bid to become the all-powerful Shaman King.
The all new TV Animation "SHAMAN KING" is now available on Netflix! Sales of the manga series by Hiroyuki Takei exceeds 38 million volumes!
Featuring Exclusive Ride Lines from the Title Booster!
You can build decks with just this booster featuring the following characters and more! "Tao Ren", "Horohoro", "Faust VIII", and "Wooden Sword" Ryu"!
Decks featuring "Yoh Asakura" from the Trial Deck can be strengthened too!
In addition to that, many Grade 3 Units with Vanguard Exclusive Illustrations are featured in both RRR and Parallel rarities!
Also Featuring Exclusive Illustrations not from the Ride Lines!
Featuring Vanguard Exclusive Illustration of "Anna Kyoyama" and "Hao" in RRR and Parallel rarities too!
All of the cards get a Gorgeous Frameless Treatment! Featuring SKR (SHAMAN KING Rare)!
SHAMAN KING Exclusive Rarity "SHAMAN KING Rare (SKR)" Specially Featured! There's an SKR version of every card featured!!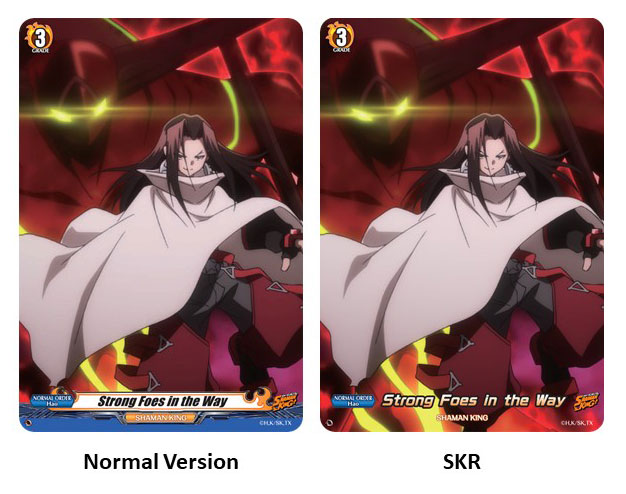 Title Booster Exclusive! Stamped Character Cards (SSR)!
Exclusive cards with gorgeous hotstamp treatment included as SSR in this product!
SSR is included randomly!
English Title Booster+ Special Specifications!!
The English edition's Title Booster includes all cards from the Japanese edition of SHAMAN KING Vol.1 and Vol.2! This also means that you can build the latest deck of your favorite characters right away once this Title Booster+ goes on sale!
In addition, we have created a special specification for this product that is different from the usual Title Booster!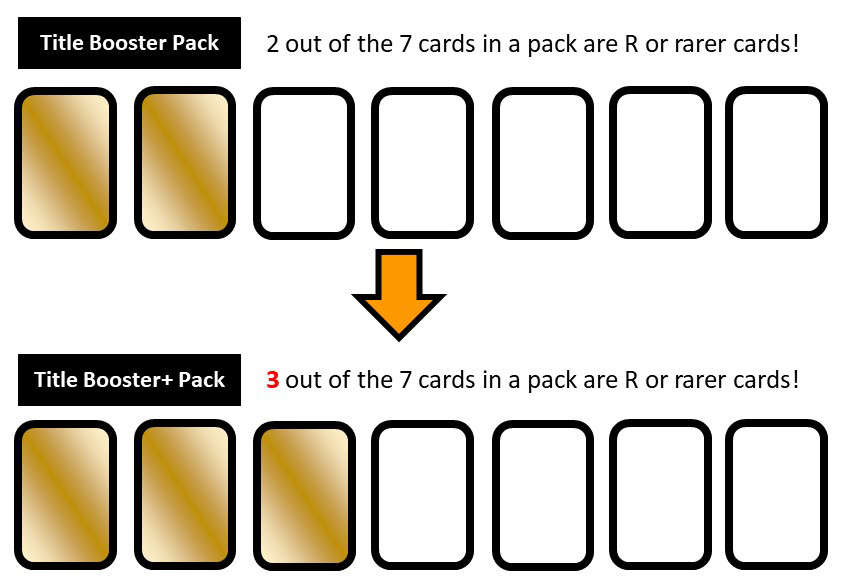 Regarding the Parallel Cards in this Product
Some of the Parallel Cards featured are not cards from this product
【SSR】 6 typesーIncludes a Grade 3 "Yoh Asakura" from the Title Trial Deck.
【SP】 23 typesーIncludes a PR Over Trigger Parallel Card.
【SKR】169 typesーIncludes a Token, and a PR Over Trigger Parallel Card.